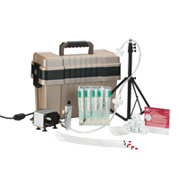 What's included and Pricing
Mould air quality testing includes Infrared Thermal Imaging, Moisture Detection, and Lab Report, Buildings up to 3,000 square ft. $375. (4 samples).
Call for a free quote for specific areas to be tested, for example, garages, cold rooms, attics, apartments etc. Rates start at $250.
Every additional 1,000 square ft $75.
Our Inspectors are IICRC Certified Mould Remediation Technician's and trained in the Ontario Building Code.
How the air quality test is performed
We have specialized air sampling pumps that runs air through a spore trap, the Mould test requires a "control" sample which is taken outside.
The control is used to compare with the indoor Mould air samples.
One sample is taken for every 1,000 square feet of living space inside the home.
The samples are then taken to an accredited 3rd party laboratory for testing, the results are available within 2 business days.
Payment is due at time of testing.
The full report will be emailed to you
Mould Air Quality Testing and Inspection; Are you experiencing any of the following?...
Repeated headaches
Breathing difficulties, asthma, or respiratory infections
Excessive coughing or the feeling of not getting enough air,
repeated congestion or sinus infections
dizziness,
Confusion or malaise
strange odours,
skin irritation or rash,
ear and eye infections?
This can be a result of Mould in your home.
Mould spores are floating in the air all around us everyday looking for a new source of food and moisture to start growing.
The amount of mould spores outside should be approximately equal to the amount of mould spores inside your home.
Your body's immune system can manage an average amount of mould spores at any given time.
When mould finds food and moisture in your home and begins growing it releases more mould spores into the air looking for more food and moisture.
The mould spore count in your home can reach unhealthy levels in a short period of time and cause serious mould symptoms.
At first you might think you have a cold or allergies until the symptoms get worse.
Call or Text 519-572-7896