Worried that there might be mould growth in your attic? At Good Bye Mould, we specialize in attic mould removal services, and have been safely removing attic mould in Kitchener, Waterloo, Cambridge and Guelph for 10+ years.
Our technicians are highly trained to remove attic mould safely and effectively, giving you peace of mind that your home or commercial property has been restored. We are also pleased to offer additional services including air quality testing before and after remediation as well as a full PDF lab report outlining where the growth was found, the level of toxicity and our prescribed plan of action.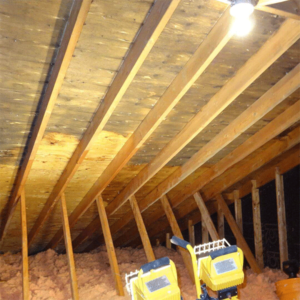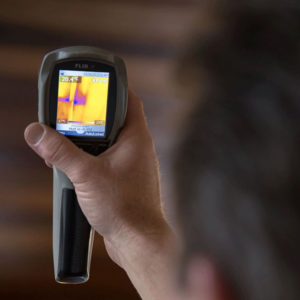 The Cost of Attic Mould Removal
Removal prices start from $400 (Minimum Charge), then range to approximately $1 to $4 a square foot. Price varies depending on the amount of mould and accessibility in the attic space.
No charge 5 year transferable warranty. (Often required by Buyers, Realtors and Lending companies).
Mould Air Quality testing before and after Mould Removal is $150 (Lending companies often require this). Includes lab report.

Full PDF Lab report of the issue causing mould. Completed by a IICRC AMRT certified and Registered/Master Inspector trained in the Ontario Building Code. Sample report.
Additional services available as needed.
Choosing the right technicians to remove the mould from your attic is extremely important. If you work with an inexperienced company or attempt to remove the mould on your own, you risk cross-contamination, which makes small-scale removal jobs quite large and expensive to fix. Ensure that mould is removed properly the first time with Good Bye Mould.
Call or txt 519-572-7896 for a no charge, onsite quote. Contact us here.
All of our technicians are IICRC certified for water damage and mould remediation. They are also trained on the Ontario Building Code. This means that our technicians are experts at locating moisture and mould growth, and they have a great understanding of infrastructure as well. This is an excellent tool that helps us determine how the mould growth started in the first place, and how to prevent it from coming back.

IICRC- Water Restoration Technicians
IICRC- Applied Microbial Remediation Technicians
Ontario Building Code Certified
The Mould Removal Process
We'll send our IICRC certified technicians to assess the situation in your attic. The best way to address mould is to find the growth source, and our technicians are trained to find the source of the problem and determine how to stop it from happening again.
We use the best and latest equipment and technology to address the mould problem, including infrared thermal imaging, moisture meters, and air quality testing.
Before remediation begins, we install critical containment barriers to prevent further spread and to ensure that your home remains safe during the removal process.
Our experienced and certified technicians will expertly remove your attic mould. Check out the video below to see attic mould removal in action:
In colder seasons, the conditions are perfect for mould to begin growing in your attic. The most common issue we discover at inspection is leaking or disconnected bathroom vents. Warm moisture air entering the attic space will cause condensation on the roof decking, typically on the north east side of the attic space. To prevent this, take a look in your attic space for any disconnected or leaking exhaust vents, or frost on roof sheating in the winter. This is a great indicator of heat loss into the attic space. If frost or mould is present, call us for a no charge onsite consultation.
Call or Text 519-572-7896